What is Tosine ry – about us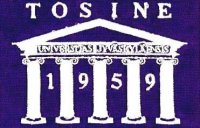 Tosine is the student association of history students in the University of Jyväskylä. The association was founded in 1959, making it one of the oldest student organizations in the University of Jyväskylä. The word 'tosine', an eighteenth-century neologism meaning history, was chosen through a contest later that very same year.
Tosine represents history students in Jyväskylä and their rights at the university, therefore cooperating closely with the Student Union of the University of Jyväskylä (JYY). In addition we (Tosine) frequently discuss matters concerning teaching methods and course contents with the Department of History and Ethnology. We keep in contact with history students all around Finland and have interdisciplinary collaboration with other student associations in Jyväskylä.
The association is led by a board consisting of 11 persons. Board members are elected annually from the Tosine membership. Our current chairperson in 2023 is Viivi Kekäläinen. Our international activities include keeping in contact with exchange students and helping their integration to the local student community. In practice this means organizing events, such as parties, get-togethers, sauna evenings and cultural excursions for both Finnish and international students. This year our international correspondent is Malla Rahko, email mkrahko [at] student.jyu.fi
International students are welcome to take part our activities without paying the membership fee. If you have more questions on Tosine and/or its activities, please contact the above mentioned persons.
Our activities:
• Events: parties, get-togethers, seminars, cultural events and workshops
• Sports (tournaments, weekly sport turns)
• Biannual Tosine magazine
• Occasional excursions, visits to museums and local companies
• Our student room: ToNe-room (on the ground floor of Historica building)
The student room (called ToNe-huone in Finnish) is meant for history and ethnology students for hanging out and/or studying. It is located on the ground floor of Historica –building. There we have e.g. computers, sofas, microwave oven and a possibility to have coffee and tea. The student room is an excellent place to meet Finnish students in a relaxed environment.
Opening hours 8 am – 6 pm.
Follow Tosine
Tosine mailing list: tosine [at] lists.jyu.fi
Tosine in social media: Facebook || Instagram
FB group for History and Ethnology Department International students